Thanks to
Mary at Little Red House
for hosting Mosaic Monday and for posting a link on how to create photo mosaics easily...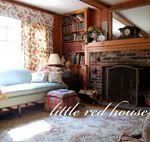 Here is one mosaic I created last week for some of my new Porcelain Halloween Pendants that I am getting ready to post up in my
Etsy shop
in the next two days...
MarshaNealStudio.Etsy 2010 Porcelain Halloween Pendants.
I also contribute a monthly post to the
Beads-of-Clay Blog
about testing and using commercial Cone 6 glazes. These mosaics have saved my life and blog photo space…
I think they are quite useful as a teaching visual aide as well...
MarshaNealStudio.com Mosaic for my monthly BOC Blog glaze test post.
I have been taking photos out in my garden as well, but right now my time is being spent on working in the studio - mainly pulling stuff together for the
"Honoring September"
event (in memory of my mom, Pattie) I am going to jump into on September 1 (her birthday)…
Some of those Halloween Pendants will be available as completed necklaces through the
My Mom Pattie Etsy shop
too. I just have to get them pulled together tomorrow and photos taken…
A lot easier said than done…
Makes me exhausted just thinking about taking all those photos, then cropping, editing, uploading, describing, and all that goes along with getting something listed on Etsy...